Saving Operation Settings (Option Profiles)
Profiles allow you to save the settings for almost any analysis operation in Geneious Prime so they can be loaded later or shared with others. Eg. the recommended trimming parameters for your organization can be saved as a profile and then shared on the Shared Database for everyone to use.
The operation settings button

appears in the bottom-left corner of any options window. Click on this button to reset to defaults, load a profile, save a new profile or manage your existing profiles, as described below.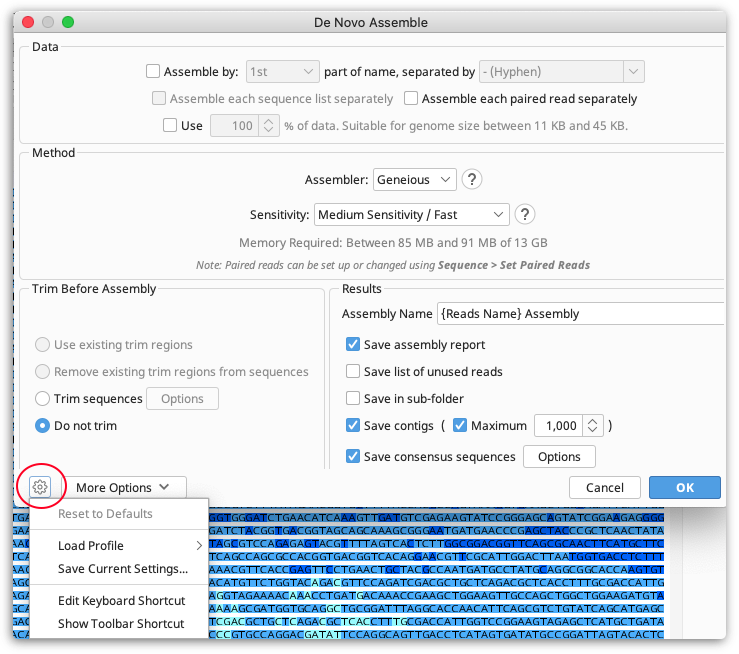 Saving a profile
To create a profile, set the options up the way you want, click the operation settings button then choose Save Current Settings. You can then enter a name for your profile and choose whether it is shared. For a description of shared profiles see the section on sharing profiles.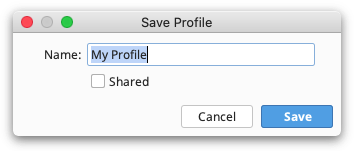 When you save a profile it is attached to the particular analysis window that you have open. Eg. if you save a profile for Alignment it can only be loaded for Alignment, not for Assembly.
Loading a profile
To load a profile, click the operation settings button and choose Load Profile and click on the name of the profile you want to load. The settings for the operation will immediately update to reflect the profile.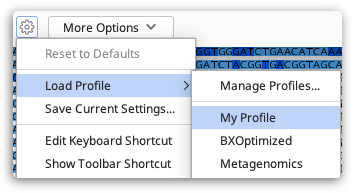 Note: Sometimes when you load a profile the settings may not exactly match what was saved. This is because the available settings can change depending on what type of documents you have selected.
Managing profiles
Click on Manage Profiles under Load Profile to see a list of profiles with options for deleting, editing, importing and exporting profiles. See sharing profiles section below for more on import and export.
Sharing profiles
There are two ways to share option profiles:
Import and export from the Manage Profiles window allows you to save a file containing a particular profile. These can be emailed to other Geneious Prime users and imported for use with their data. The easiest way to import a profile is by dragging the file directly in to Geneious Prime.

If a profile is marked as Shared (when it was created or by editing it) then the profile will be copied across to any Shared Database that you connect to. This means anyone else who connects to the same Shared Database will automatically have the profile under their Load Profile menu. Note: Once a profile is shared it cannot be un-shared, but it can be deleted. Also, other users can edit or delete a shared profile at any time.